We chatted to Rum Jungle before their gig at Harbord for Aus Music T-shirt Day on November 30th.
Aus Music T-shirt Day is a celebration of the vibrant Aussie music culture, flaunt your fave Aussie band tee and settle in for a night of cracking tunes as we raise funds for to support our local music industry.
Our band buddies, Rum Jungle, can't wait to be a part of it. From the thrill of picking the perfect Aussie tee to their top musical picks, they're all set to rock the stage and share their infectious energy with fans.
Get ready for a backstage pass into their pre-gig rituals, favorite Aussie artists, and their dream travel destinations. From epic stretches to beer-fueled warm-ups, their quirky routines mirror their eclectic music taste.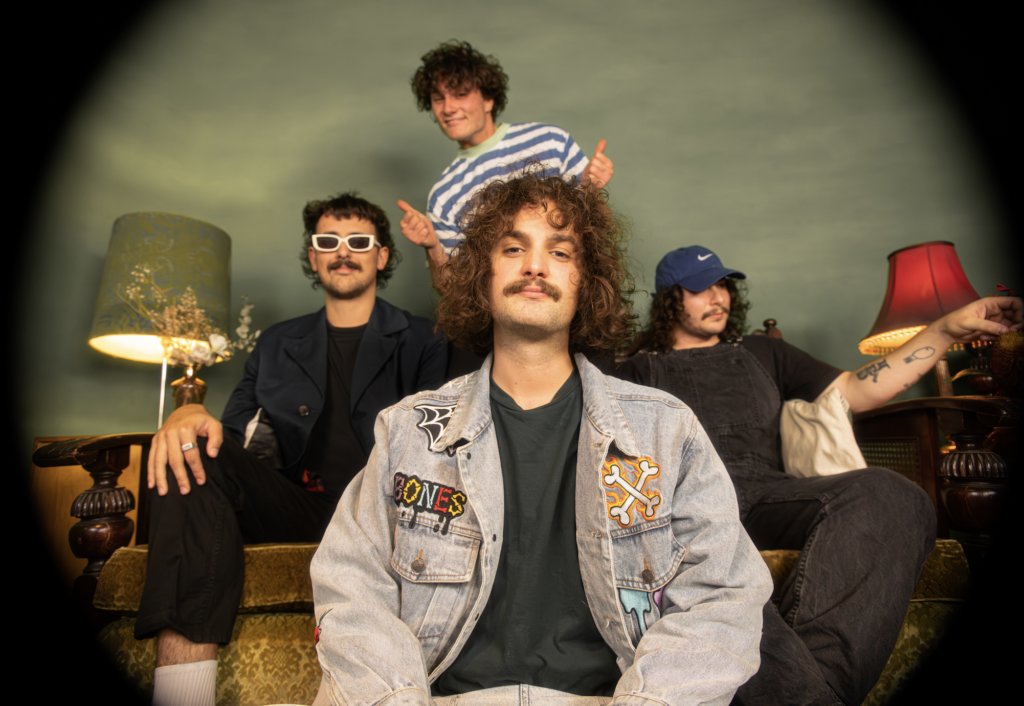 Tell us more about why you're excited to be supporting Aus Music T-shirt Day and playing at Harbord Hotel.
Aus Music T-Shirt day feels to us like a staple of Aussie music. It's something that rolls around every year and you see so many people getting around it which makes you really feel how sick the Aussie music scene is and the people who support it are. Getting to play a show to support it ourselves is an honour and we're stoked we can be part of such a mad music scene.
What Aussie Tee will you be repping for Aus Music T-shirt Day this year?
So hard to say. Too many options, will probably be a decision for the morning of! 
Name your top 3 fav Aussie artists right now?
Royel Otis – Dust – Jacotene
Where do you go to find/seek inspiration?
Anywhere we're all together. Tiny home studio or somewhere on the road. 
High rotation – What album are you vibing right now?
Grogans new album and teen Jesus and the Jean teasers new one, so good.
Tell us a little about how you like to warm up before a gig?
Maje does heaps of stretches, Benny does some motorbike sounding vocal warm ups, fraz does some hectic hand stretches and Josh drinks beers.
What drink is your go-to when you go out?
Philter we all love but usually whatever is on the rider we're on for.
Travel list – where do you want to travel to next and why?
Europe or the UK would be perfect. Big fan of the culture and music. Otherwise a few more place in SA and WA would be mad but also love to get up to the NT or North QLD.
Something most people don't know about the Aussie music industry?
There is an insane amount of bands and artists in Aus. Every town you go to there's loads and there's so many that are mad just waiting to be discovered. Always good to go to local gigs cos you might find some real sick music. 
Dust – The gutter
Grogans – I cannot read your mind
Teen Jesus – never saw it coming
Paul Mac – Junk
Parquet Courts – Freebird II
The Moving Stills – Volcano
Mike Rowave – peace pipe 
Leonardo's Bride – Even when I'm sleeping
Fungas – Eclair
Dope Lemon – Miami Baby
Click on the Spotify icon to give the tracks a listen!