Solstice State, a group exhibition by HAKE in Balsa at the Harbord Hotel, is reimagining the dining experience. Delicious vintage furniture. Heavenly warm flavours. Delectable textures. An appetite for the stomach and eyes. It's contemporary art and design with food, paving the way for future cross-cultural collaborations.
The Harbord Hotel is a local food destination located on Sydney's northern beaches. Its design is grounded in an earthy, natural palette with a beautifully polished interior filled with soft creamy hues and raw materials. The timber ceiling and contrasts of striking darker tiles entertain all seasons, and guests with front-row seats have views of the ocean through the arched windows. There are walnut timber floors and a staircase paired with a mural painted by Ash, a deeply creative experiment that marks the long-lasting relationship between the two spaces.
Ash and Jake approached the collaboration as an opportunity to curate a show that responds to the humble and subtle interior and exterior surroundings. It suggests a timeless and seamless atmosphere that creates a public friendship and cultural exchange between HAKE and the Harbord Hotel. A selection of 15 works compose of various styles, techniques, and subject matter that create a sense of comfort and familiarity with Sydney's northern beaches.
Solstice State bleeds effortlessly and intuitively between HAKE and Balsa, welcoming guests with a new cultural sphere.
Written by Amalia Mitsopoulos
Thomas Thorby-Lister
Thomas Thorby-Lister's conceptually driven practice works across painting, site-action, video, drawing, installation, photography and digital media. Through abstraction, fieldwork, site-specific projects and studio research Thorby-Lister typically focuses on examining the flawed ways information is depicted and interpreted.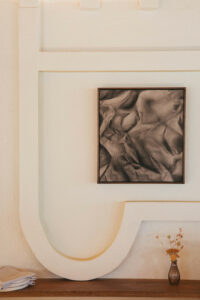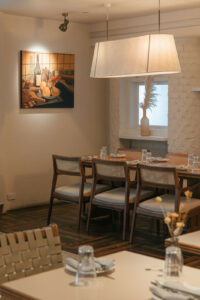 Shannon Simm
Exploring the romance of the banal & the ever changing surroundings & details of her environment, her works capture moments of stillness she finds herself growing a strong sense of appreciation and gratitude for. Each piece being a visual documentation of the connections she makes with people & places, & the new found parts of herself that each narrative has helped develop.
Lucinda Jones
Lucinda Jones paints beautiful, block colour female figures on paper and canvas. She's inspired by both feminine strength and vulnerability and her distinctive use of colour explores the duality of softness and strength.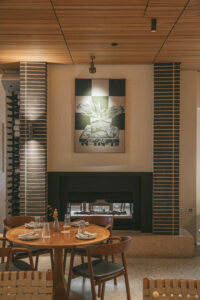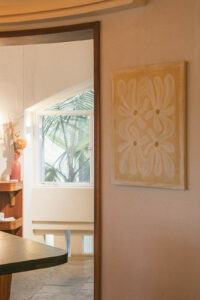 Kane Lehanneur
Kane Lehanneur is an emerging, multidisciplinary artist working between oil & acrylic paint and printmaking techniques to engage with the complex and myriad layers of Australia's physical and political landscapes.
Kane also curated our beautiful bottle shop mural that can be viewed from Balsa. 
Elliot Routledge & Neil Shennen
A Father and Son collaboration, 5 years in the making Neil's landscapes are painted in the classic style of old masters and made with precision and reverence which are iconic to his peers and the generations of artists around him. Elliott's abstractions are a glimpse into his own era in which modesty and simple acrylics are used to convey ideas fast, and direct.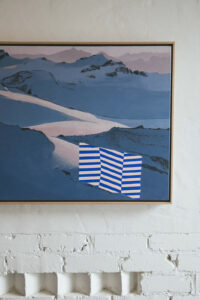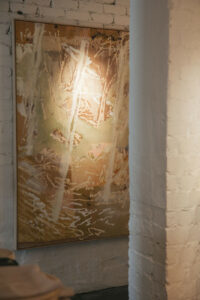 Ash Holmes
Ash Holmes is a Sydney-based artist who draws on colour psychology and her environment on Guringai Land (Sydney's Northern Beaches) for an ever-evolving source of inspiration in her abstract paintings.
Adam Leng
Influenced by this profound connection between creativity, culture and politics, Leng's latest works are inherently tied to past and present. Hypnotic graphic patterns are woven together in various colour combinations; eucalyptus green and natural, earthy tones give way to busy, dynamic forms that bear resemblance to those of Keith Haring and Reko Rennie.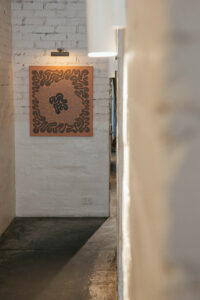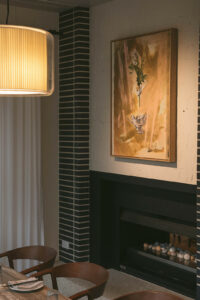 Jamie Preisz
Made on his recent residency in Portugal, Jamie explores an unconventional blend of Still life and landscape within each work approaching themes of deterioration and consumption in a classical style with a contemporary twist.
Loralee Jade 
Loralee Jade's painting is concerned with the ways that painting can be utilised to look at what can be represented beyond the use of language. The delicate, intuitively developed works of Jade's practice draws upon memory and personal experience, offering an evocative visual space that is suggestive of figuration, whilst simultaneously dissolving into abstraction. The experience is sensuous, luscious, bodily and emotional.