SHAPING AUSTRALIAN SURF CULTURE

If you spotted one of these three locals around Freshwater, you'd be forgiven in not recognising them as the unassuming Bennetts of Bennett Surfboards, one of the longest-running surfboard manufacturers in the world.
The legacy of Bennett Surfboards is huge. Walk down to any major beach in Australia and you'll spot the Bennett name on surf lifesaving products, pro-rider surfboards, and kayak paddles. But this internationally recognised brand came from humble beginnings.
In the 1950s, now-grandfather Barry Bennett started making boards next door to his parents' place in Waverley.
"I was building the 16 ft toothpicks because there were a couple other manufacturers building the same thing," Barry explains. However, in 1956 a visit to the Melbourne Olympic Games display at Torquay showed what the U.S. designed Malibu boards could do.
"14 ft was a shortboard in those days. And when we saw the Americans and what they could do, we changed, literally overnight. We couldn't get any balsa so we had to improvise by making a hollow 10 ft 6 — short, manoeuvrable."
The creation of these Barry Bennett Okanui boards was soon followed by the search for more space near the surf, which was found as a vacant block of land on Wyndora Avenue, close to the pub. A workshop was initially set up under the house, but with manufacturing dust flying through the family home, it was decided a shift to an external factory might be best.
"We actually got the drop on everyone else because we built the first factory just to make surfboards. Everyone else was in a tin shed or something built on the back of a garage but we had a proper little factory." — Barry Bennett
But it was another innovation that cemented Barry's position in the Brookvale Six. 
"We had the first polyurethane surfboard. We found out how to make it all work; the chemicals. It was a big learning curve, to play around with these chemicals. They would blow up and explode. We had a guy in California. He was an engineer and he helped us quite a lot in finding out formulas and trying to understand the foam and how it worked." 
The hard work Barry put into getting a consistent quality led to them taking over the market, with other manufacturers instead turning to Bennett Surfboards to supply foam blanks. This arm of the business, later called Dion Chemicals, was to become Australia's biggest blank supplier. And the family business grew. Sons Greg and John stepped into the business straight out of high school. 

"My brother and I, we had a great interest in surfing," Greg explains. "Growing up, we thought it was cool. Everyone used to go to the Gordon Woods or the Bennett Surfboards factory before school. We had a lot of interest to keep the business going."
And with work nearby, Harbord Hotel naturally became their local.
Greg says, "I've been coming here from a pretty early age, I'd always see people I'd grown up with and knew. Through the lifesaving, through the surfing, through the football association. It was a big headquarters for getting together with people. We still come to this pub quite often, go catch up and tell all the old stories… Beers were far cheaper than they are now, but it's all relative!"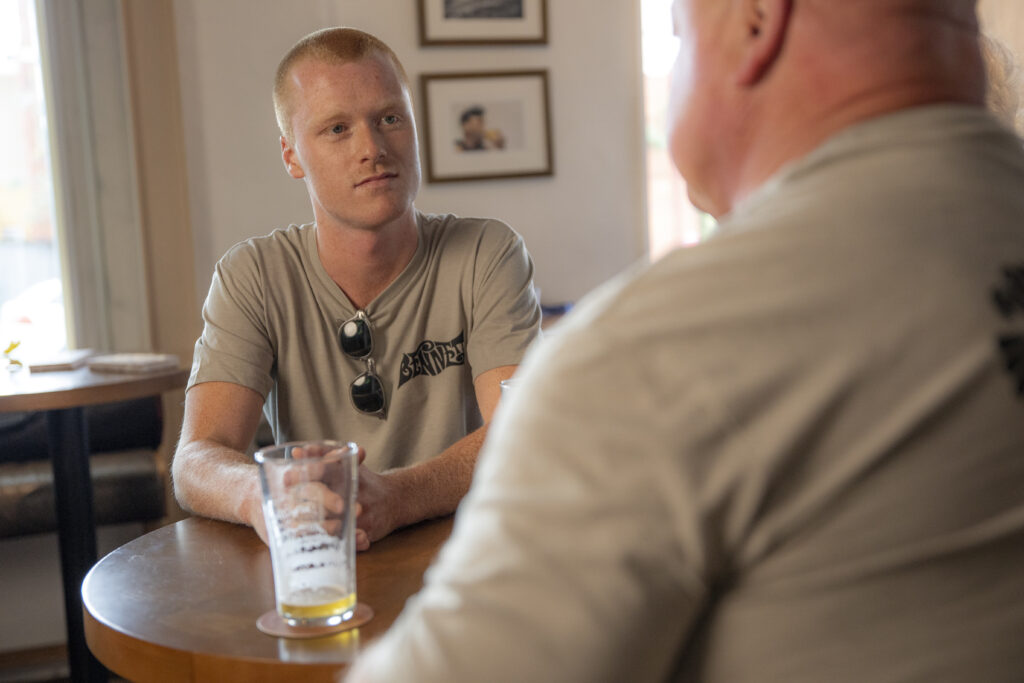 "IT'S DEFINITELY A WELL ESTABLISHED BRAND THAT'S BEEN AROUND FOR QUITE A LONG TIME. AND WE LOOK FORWARD TO CONTINUING THAT THROUGH FOR MANY GENERATIONS TO COME."
— TOM BENNETT
But Barry isn't resting on his laurels. At the age of 90, he still works in the business, with Greg and grandson Tom also involved. And while the area has changed a lot since Barry paid 850 pounds for a block of bush, the family business is still keeping true to the times and trends of this much loved pastime.  

Greg says, "all these international people just make it that much more interesting and there's a lot more surfing which is good for the whole industry. Longboards are keeping males and females in the sport for longer because they're more stable; easier to surfboard. I know people in their 70s that are still surfing on longboards."

And things just look to keep growing from here. 


"If you've seen Manly to Queenscliff over the past six months, you've never seen so many surfboards in the water. It's booming," Barry notes. 


"And with Covid and things it's just gone gangbusters," Greg adds. "Everyone wants their little peace of isolation out there. The waves are getting really crowded. But everyone's still having fun."